The 15,000-square-foot Rooftop Reds space puts an emphasis on sustainability and social responsibility.
Hospitality Technology | June 29, 2022 | Robert Firpo-Cappiello
The founders of Rooftop Reds are on a mission.
The pioneering rooftop vineyard, spanning 15,000 square feet at NYC's Brooklyn Navy Yard, boasts nearly 200 grapevines, colorful seating, decorative lights, and jaw-dropping views of the Manhattan and Brooklyn skylines. And its status as the first rooftop vineyard is just the beginning.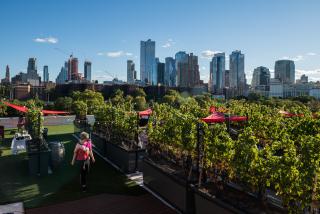 Promoting Sustainability
"We're developing a new breed of urban agriculture and sustainability practices to help reduce the heat island effect and inspire creative thought regarding city green spaces," says Rooftop Reds founder Devin Shomaker.
A major component of the vineyard's sustainability practices is a partnership with fellow Brooklyn-based technology company Pvilion to install solar fabric installations onsite, allowing Rooftop Reds' food and event programming — including pizza and wine movie nights; wine, chocolate, and oyster tastings; vineyard tours; and locally sourced dinners — to become primarily solar dependent for the height of the summer season.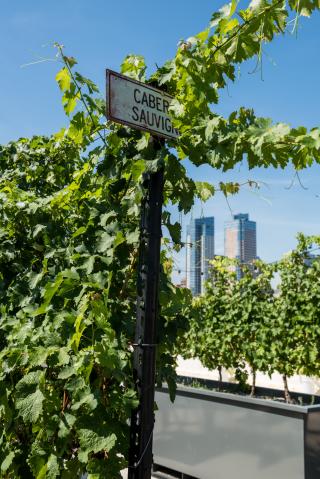 "We host many food events at Rooftop Reds," says Shomaker. "With the investment of solar systems, we are living our mission of being a sustainable and forward-thinking business."
On a day-to-day basis, the solar installation mostly generates energy for the property's perimeter and vineyard lighting. When Rooftop Reds hosts food events, they often use the stored solar energy to assist with their cookware energy needs.
"Solar is just another way we can promote and educate sustainability via our food programming," says Shomaker. "While the economic benefits from solar for our business are quite minor, being able to speak about our values regarding sustainability practices with confidence is very important to both our staff and guests."Image
Making Vineyards Accessible
Rooftop Reds' mission also extends to social responsibility. By bringing the vineyard experience to the city, easily accessible via public transportation such as subway, bus, and ferry, the vineyard allows New Yorkers to enjoy an eco-friendly wine-culture experience close to home, without driving miles to the state's renowned wine regions like the North Fork of Long Island or the Finger Lakes.
Shomaker and his partner TJ Provenzano and GM Irina Sargisova also hope to "de-snobify" wine culture by making it approachable, fun, and educational. "We accomplish this lofty goal by focusing on a 100% New York State wine, beer and cider list," says Shomaker. "We offer a casual environment with beer garden & bistro tables, hammocks, yard games, porch swings, pergolas, and an outdoor movie theater on the rooftop. Wine can and should be fun to enjoy and share!"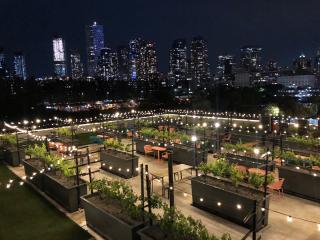 Rooftop Reds produces a range of tasty, reasonably priced whites, sparkling wines, rosés, and, yes, reds, in collaboration with Point of the Bluff Vineyards, in Hammondsport, NY.
To read the full original article, click here.