Flexible solar panels integrated into fabric are giving tenants a new outdoor amenity that generates its own power. Here's how you can create next-generation amenity spaces with this new solar technology.
Buildings | Janelle Penny
A new solar technology combines flexible solar panels with fabric to create a canopy that generates electricity.
Solar fabric architecture, the result of combining fabric and solar cells, can be used to create canopies and other shaded gathering places where building occupants can relax while they recharge their devices.
"It's a pretty basic concept – it's a surface that's getting hit by the sun all day and previously wasn't creating electricity. Now it is," explains Colin Touhey, CEO of Pvilion, a solar fabric manufacturer. "We're taking areas that get hit by the sun, providing shading and putting solar cells on them to serve a multi-purpose."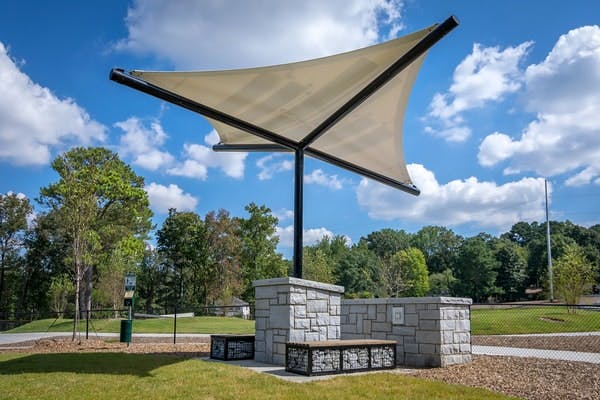 (Photo: Solar sails are an easy way to create an outdoor sitting area for charging devices, eating lunch, or having outdoor meetings with colleagues. Credit: Pvillion)
How Solar Fabric Works
A solar fabric installation starts with an idea. Facilities professionals who know they want an outdoor hangout space with flexible solar panels will work with manufacturers like Pvilion to customize the project to the conditions on the site. This will account for:
Where the site gets the most sun
Local code, including wind load requirements
How to engineer the structure so that the fabric won't flap around in a storm
Once the project is designed, thin film solar panels are laminated to sturdy fabric that can handle outdoor conditions. The fabric is then mounted on a frame, pole or other structure. The solar-powered space can be grid-tied or grid-independent and typically generate 10-15W per square foot of panel, Touhey adds. Many structures can be erected in a few hours or less – most of the work is done ahead of time, with just structure-building and basic wiring required on-site.
"We just did a few installations in parks in Atlanta that are basically benches under a beautiful arching canopy that provides shade in the summer and rain protection, and there are USB ports and AC outlets there for you to charge your phone or work on your laptop," Touhey says. "Outdoor canopies are a hot topic right now. At Google's headquarters, we did some outdoor juice bars – a café juice bar but in an indoor-outdoor space where you're protecting it, making it waterproof and providing shading."
The solar fabric is also ideal for open parking lots that are exposed to the elements all day. Carports can use the flexible fabric or a more rigid panel solution to offset the electrical demand of parking lot lighting or charge electric vehicles.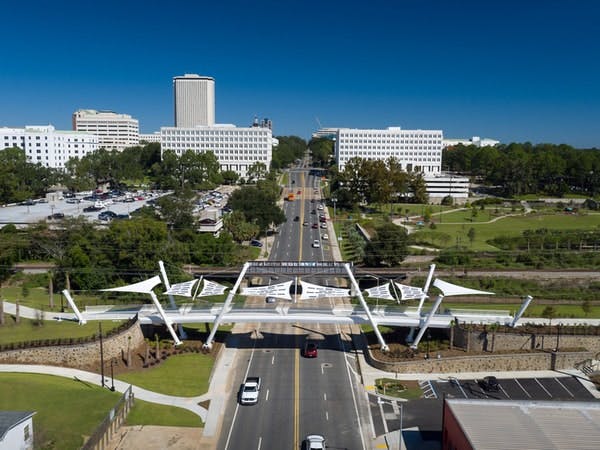 (Photo: Capital Cascades Park in Tallahassee, FL, features a solar-powered pedestrian bridge that uses flexible solar fabric. The panels on the fabric power the park's lighting. Credit: Pvillion)
What to Know About Solar Fabric Architecture
This application of flexible solar panels may be new, but the maintenance is the same as it's always been. A simple semi-annual cleaning with soap and water will make sure the panels can harvest the maximum amount of energy from the sun. A good rule of thumb is to clean the panels whenever you need to clean the fabric.
"If the white is getting dirty, the panels are as well. They're just not as visible," says Touhey. "But the panels are still going to work – you just want them to look nice."
Solar fabric installations often qualify for investment tax credits, adds Touhey, so any financial discussion around investing in this new solar technology should take incentives into consideration. Pvilion's clients are typically already interested in adding a solar-powered amenity, but the federal incentives make it easier to justify the upfront cost.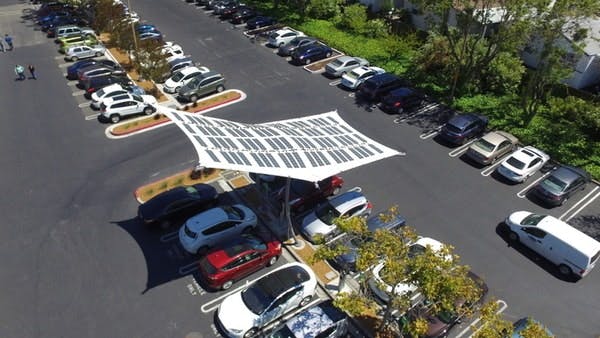 (Photo: Solar fabric creates a shady spot for cars. The energy it harvests from the sun can power parking lot lighting or even partially charge the cars parked under it. Credit: Pvillion)
"If you're looking to put a $10,000 architectural trellis on your rooftop, you're going to write a check for $10,000 to your contractor. If you add a $12,000 solar trellis to your rooftop, you're immediately eligible for the 30 percent Investment Tax Credit, accelerated depreciation and any state and local incentives," explains Touhey. "Just by adding a little bit of solar, you're reducing the installation cost. You're making the thing you were already going to spend money on cheaper."
Tenant amenities are rapidly becoming sought-after ways to attract new tenants and retain existing ones. Extras like powered outdoor workspaces and device-charging relaxation stations could be the thing that sets your facility apart from the competition. Investigate this new solar technology and see if a canopy laminated with solar cells is the right investment for you.
To read the full original article, click here.